With over 75k likes on Facebook and 14k followers on Twitter, "I put Waifus on a vintage TV" is the work of a man with a peculiar hobby: repairing and restoring old CRT TVs, with a weeb twist: in order to show them working, he's putting waifus on 'em. Despite having mentioned it multiple times, few people know that Mr. Braun is actually Italian and very open about his passion: we interviewed him to know more about his page, his tastes in anime, and a bit of retrogaming talk as well.
Let's start with the basics. Please introduce yourself to our readers.
Many people call me "Mister Braun". I simply post pictures of waifus on the vintage TVs i restore. I've been doing this for over ten years, also working on stereo and radio equipment. This led to me opening my Facebook and Twitter page.
Knowing how to service and repair such old CRTs is quickly becoming a forgotten art. Are you self-taught or did someone in your family teach you?
During the '80s and '90s, my father used to try and repair old stuff that people was throwing away, including CRT TVs, usually after some technician told them it was no longer fixable. When i was 11, my dad gifted me a copy of "Il Radio Libro", a book written by engineer and electrician Domenico Eugenio Ravalico in 1933. Like the TV alternative "Il Video Libro" this was a collection of technical texts written for absolute beginners who at the time didn't have the money to attend a technical school. His books taught me how circuits worked, how to diagnose and troubleshoot old TVs and more, and they also helped generations of technicians during the difficult years after WWII and beyond. I later got a diploma from a statal technical institute.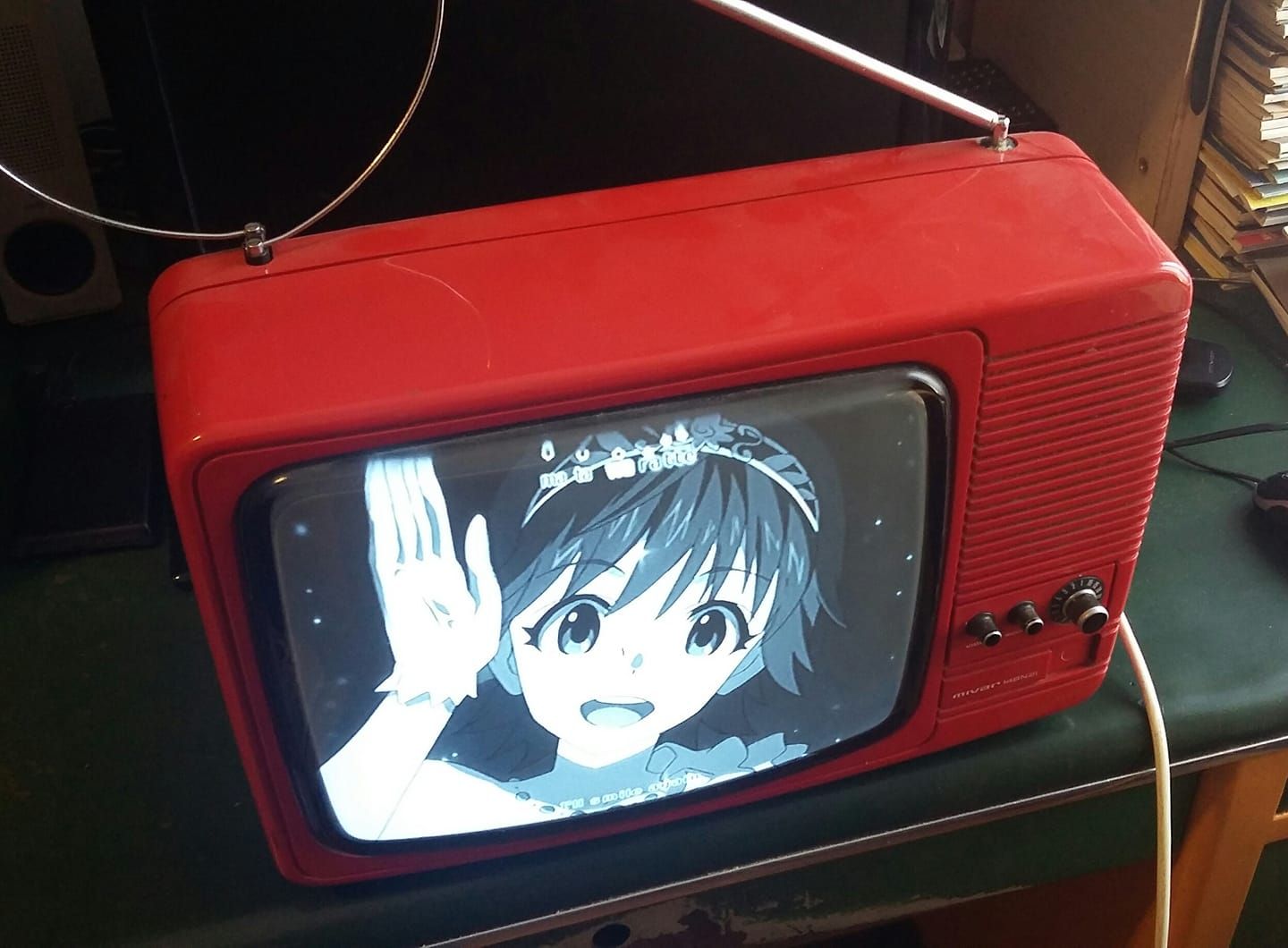 You always put fine waifus on these restored TVs. How did you start watching anime?
My passion for anime started in 2001, when my sister asked me to record her an episode of the first Pokémon anime series on a VHS. Before that, the TV channel Italia 1 used to broadcast Fancy Lala (Mahō no Sutēji Fanshī Rara). I was so captivated by it that i started recording more and more anime. I still have the original VHS tapes.
Please tell us about your favorite anime!
My favourite anime has always been Cardcaptor Sakura, but i also loved The Idolm@ster, Girls und Panzer, Negima, Arpeggio of Blue Steel, Tokyo Mew Mew, K-ON, ARIA and later Code Geass, Kemono Friends, Cells at Work, STEINS;GATE and Little Witch Academia. I really like Makoto Shinkai and Studio Ghibli movies. This season i'm watching Yesterday wo Utatte.
Who's your favourite waifu? There are no wrong answers here!
My one and only true waifu is Makoto Kikuchi from The Idolm@ster. Don't worry, she'll kick the haters herself!
How did the idea of creating a Facebook Page start? How much did it take you to grow your audience this much for such a niche concept?
Ever since i started working on these devices i always used anime to showcase them, but these were often posted on local electronics groups or my Facebook profile. Three years ago my friends suggested i should open a public page and that's how it started, i finally opened "I put waifus on a vintage TV". After a few weeks, a big page dedicated to Doki Doki Literature Club shared one of my pictures involving Monika, and my audience skyrocketed after that.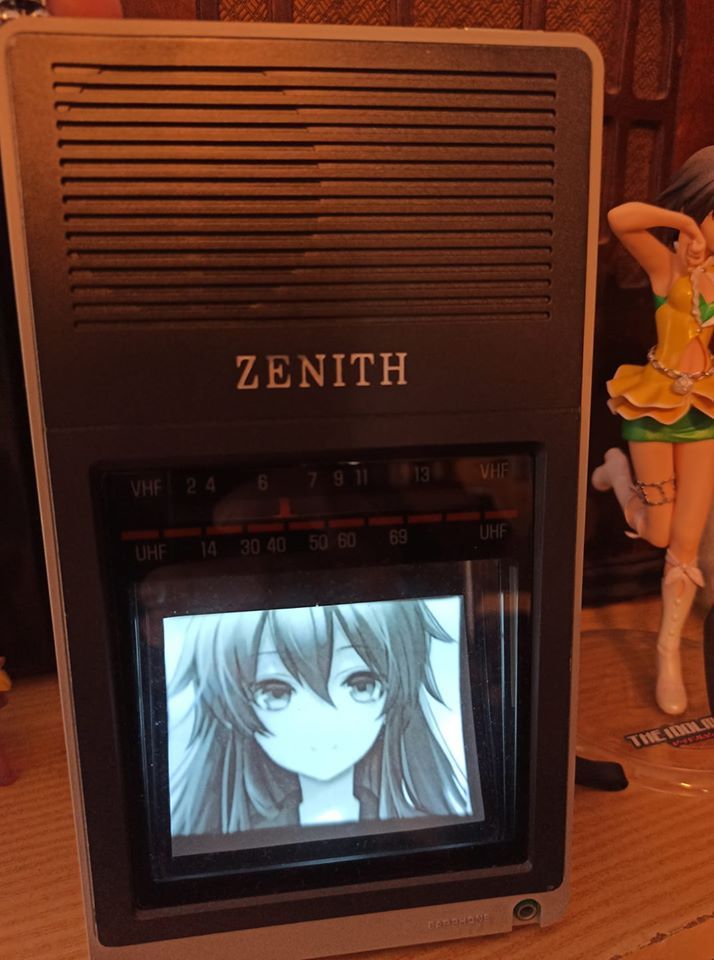 Let's get technical (but not too much). You mentioned in your bio that the TVs are all in working condition and images are sent via RF cable. How does this process happen? Do you use some special equipment?
Many people thought my pictures were elaborate edits, so i had to add that note to prove that they weren't. I use a simple device called "RF modulator" that converts audio and video signal (even via HDMI) to a radio frequence that can be read by the TV tuner via the antenna cable. I use a DVD player with a USB port plugged into the modulator, while more modern TVs can be plugged in using a SCART cable or an HDMI-SCART adapter.
How hard it is to work on these TV sets? We've all heard horror stories of people electrocuting themselves or vacuum tubes breaking and imploding, shooting glass shards everywhere. How true is this?
It's all true: there's electrical hazards and implosion risks when working on these TVs, some of these can be even lethal. That's why i always discourage people from trying to fix these things by themselves if they lack the proper training and equipment and they don't know what they are doing. All it takes is a finger touching an exposed cable and you get a 28K volt discharge. Having an extensive knowledge of the internals can help as well: worst case scenario i end up with a TV broken by someone who didn't know what they were doing and mounted back components at random. Having proper documentation is fundamental: for some models you can find the schematics online, but sometimes i had to contact the historical archive of TV manufacturers.
In the pictures you post is the image a still, or just a frame from a motion video? In other words, would someone be able to watch a modern anime series on a TV from the '50s?
The image is static, but i sometimes posted video aswell. By using the DVD player and the modulator, as long as the format is supported yes, you can watch modern anime on a 70 year old TV.
Anime is full of waifus, meanwhile CRT TVs disappeared from the market, having completely been surpassed by LCD screens. How do you manage to always get new ones and how big is your collection?
I started with some TVs gifted to me by friends, like my first Sony TV from 1961: that was given to me by my neighbor and "sensei", a former technician for Brionvega and Hitachi. After that i started hitting yard sales, radio ham festivals and such. After repairing these TVs i usually keep them. Since 2009 i probably collected about 250 TVs: the rarest one  from my collection is a British television from 1949.
In these last few years, nostalgia has hit gamers really hard and many people are looking for CRT displays for retrogaming. To the people looking for a TV for '80s or 90's consoles, are some monitors better than others?
A good rule of thumb is always to look for a reputable brand, one for which internal schematics can still be found online. Knowing people who used to work on those and still know how to repair them is a good thing too. Sony TVs, expecially the Profeel, PVM and BVM lines are very valid brands, but their internal vacuum tubes are really delicate. Another premium brand is Bang & Olufsen; we have the Philips Match Line, Grundig Monolith and Mivar L2 and V2 as close contenders.
This nostalgia started a trend of people selling below average or damaged TVs at exorbitant prices. What's the first thing beginners like me should look for in a TV from the era?
There are multiple factors at play here. Not only the brand of a specific model but also how much it was used during its lifetime. A TV placed in the living room of a family house is much more worn down than one in a holiday home used only a few times thoughout the year. Signs of prolonged usage include discoloration of the plastic near the buttons or on the remote. If a gamer wants to buy a specific TV the best course of action would be to bring your own console and test it on the spot if possible. Even if the TV works, one should always look at contrast and at how vivid the colors are. A cathode ray tube is subject to natural deterioration, and the foam inside the speakers can rot and melt. It's always good to bring a newly bought CRT to a specialized shop or a former technician who can perform a general check-up. After all, they're still 30+ years old electronics.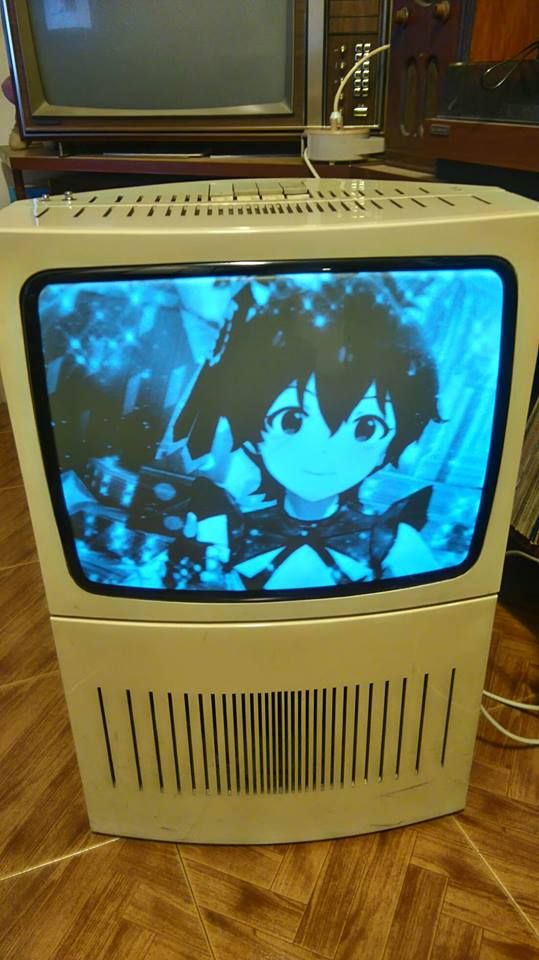 Last question, anything goes: do you have a special message for your fans, or something in particular you want to say to everyone?
Yes, there's a special place in hell for people who turn vintage TVs into aquariums, rustic DIY furniture or even dog houses!
---
We thank Mister Braun for his time and kindness and we hope you'll keep following him on his nostalgic adventure. Here you can find his Facebook Page (I put waifus on a vintage TV) here you can find his Twitter page (I put waifus on a vintage TV) and lastly his Ko-fi where you can support him directly for his hard work.